Phi Phi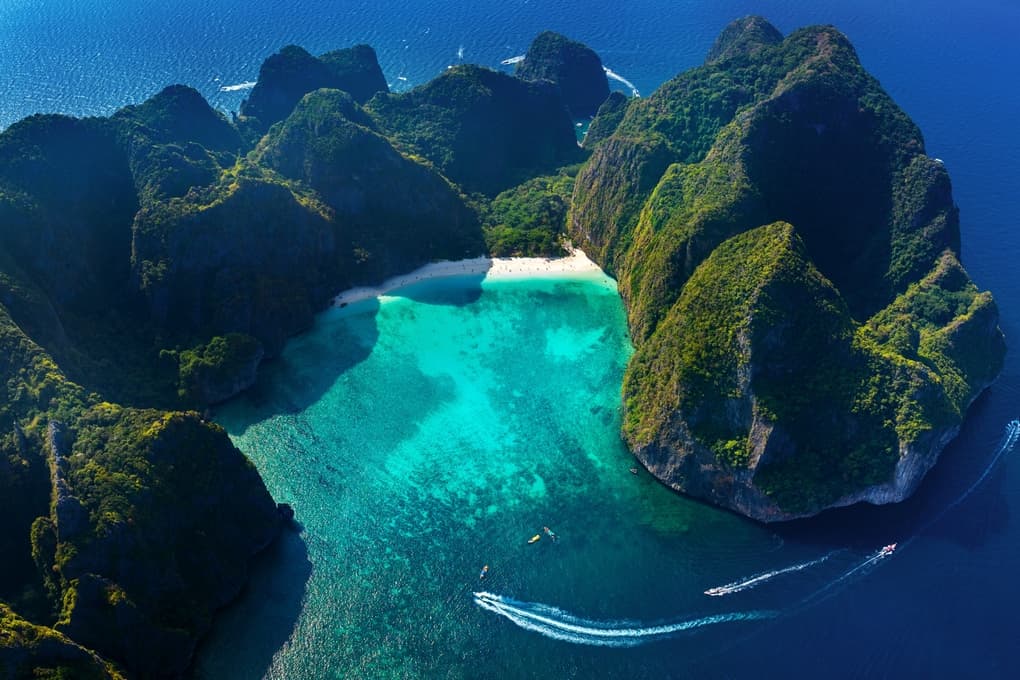 Phi Phi
About Phi Phi
Nui Bay
It is named after the mountain looks like a camel. The sea is clear, the beach is white, and there are not many tourists who come here to play. Many people come here to snorkel from the shore, which is quite interesting. In addition, coral and tropical marine life are also abundant.

The beach at Maya Bay is one of the most famous and photogenic places in Thailand, and it was the main thing responsible for bringing tourism to Phi Phi island. In fact, it's now one of the most famous white sand beaches in the world. Snorkelling and diving are excellent throughout the bay. Large underwater boulders are encrusted with coral and it's teeming with brightly coloured fish. Visibility is excellent. Many tour companies bring visitors here to snorkel from Phuket, Krabi and Phi Phi Don. Sea kayaking is also popular. Kayaking tour boats come into the bay and moor while letting clients explore. Tour shops in Phi Phi Don began advertising organised camping on 'The Beach', with drinking usually being part of the fun. Camping is only permitted on certain nights.

Viking cave
There are several huge limestone caves on Phi Phi Island. In order to protect the ecological environment of Phi Phi Island, the Thai government has only opened Viking caves for tourists to visit. There are many sea swallows inhabiting the cave, which is rich in bird's nest, so it is also called "Swallow's Nest Cave". In the nearby sea, it is also possible to see the laborious scenes of workers collecting bird's nests. The wonderful murals in the cave are engraved with murals of prehistoric humans, elephants, ships, etc., especially various ships, including various types of ancient ships from Europe, Arabia, China, etc., as well as more advanced steam ships, which are like the world. The exhibition of sea boats can imagine the busyness of this waterway in those days. However, it is said that these caves used to be the dens of Andaman pirates, so they are called "pirate caves", which makes people feel strange about these murals.
Ranti Bay, on the east side of Phi Phi Don Island, is a clean white small beach that sleeps with light blue seawater. From the beach to the sea, about 150 to 200 meters, these small creatures have been building their homes in this water area for millions of years. A shallow coral reef about 2 meters deep is a gathering place for large fish.
Most of the corals discovered are wide plate corals and branch corals, which are firmly fixed to the underwater sand and have a turbulent water flow. Protect them from frequent sightings by tourists. The underwater environment here is naturally beautiful and will not be disturbed by humans.